Around The Table
Regular price
$27.00 USD
Sale price
$27.00 USD
Unit price
per
Sale
Sold out
Transform Mealtimes With A Competitive Family Dinner Game!

Bring your toughest family dinner critics to the table and have a blast with THE NAME GAME! Keep everyone engaged with this fast-paced game that combines playful family antics and togetherness. Age 3 and up can join in on the fun, proving that this game is inclusive and challenging for all ages. Enjoy a new level of family mealtime!
Players will be challenged to answer unique questions about familiar topics like milkshake flavours, beach items, and orange things. Everyone will be laughing, thinking, and having lots of fun with this game!
The perfect game for families and friends—up to 103 years young! Includes: Orange Travel Pouch, 100 Questions (on 50 Cards), 17 Action Cards, and 1-Minute Timer. Get ready for an unforgettable night around your table!
Looking for a gift that keeps on giving? Grab our Gift Pack and Save 
HERE
WARNING: CHOCKING HAZARD - Product Has Small Parts, Not Suitable for Children Under 3 Years.


Share
View full details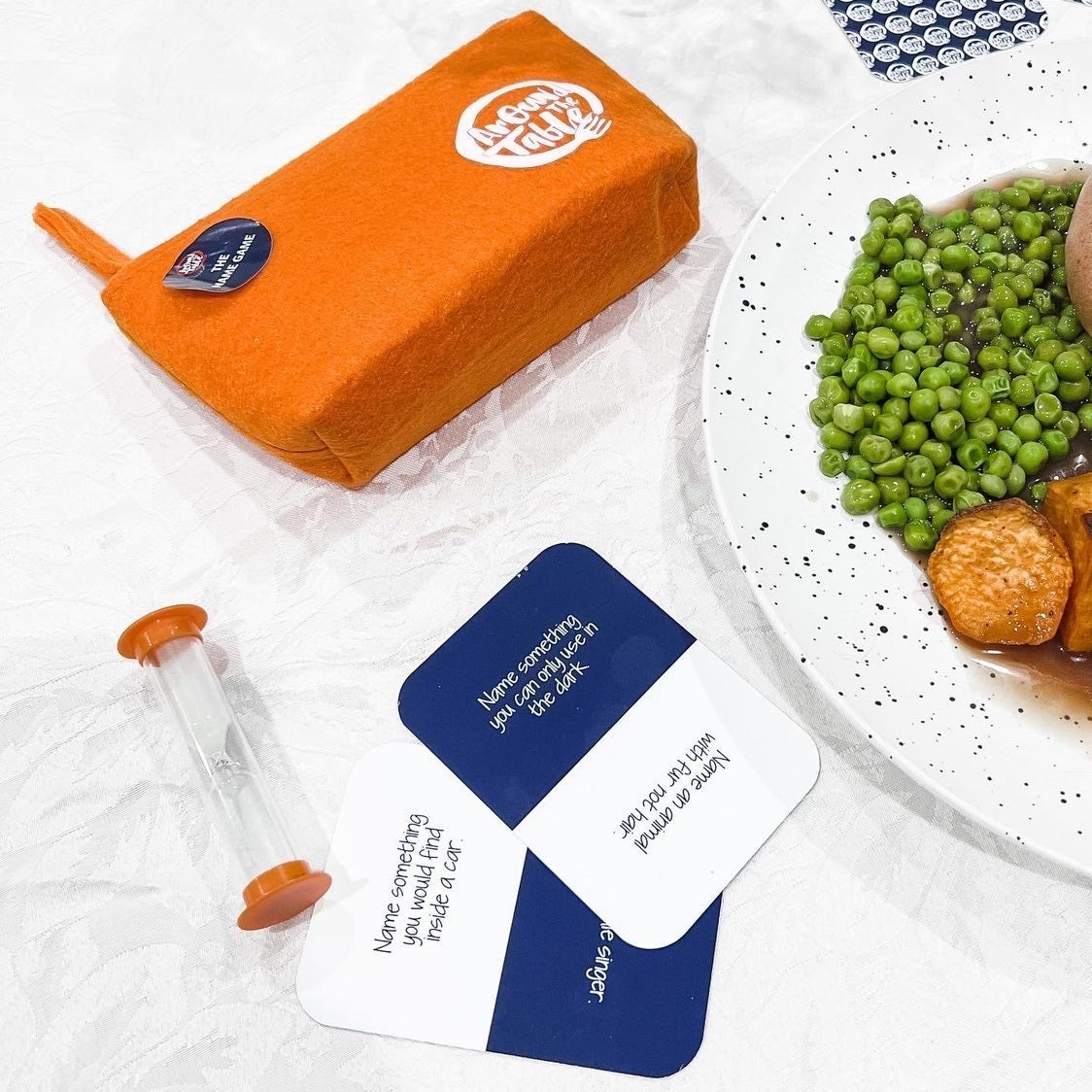 excellent fun
Our teenagers are asking to get out the cards. Now instead of arguing over dinner there is fun interaction and conversation.
Loving it!
We've had the Name Game for a couple of weeks and our 5 and 2.5 year old are loving it. The game has put an exciting spin on family dinner time which had become dreary with the same conversations about our days and complaints about the food on offer. The kids are happy to sit at the table for much longer and end up eating more of the food in front of them whilst playing!
Incredible game! So much fun!
This is so much fun, brings the family closer, and is interactive! I love it!
The Name Game
We trialled this game and absolutely loved it. Great for all ages, fun and engaging with relevant and thought provoking topics and scope for healthy competition amongst players. Highly recommended!
So simple but so fun
We trialled The Name Game with our kids aged 5, 9 and 11 and it was perfect for all of us. The instructions were super clear (with no loopholes for the older kids to exploit the little one!!) It was easy to play over dinner, and actually started off some other interesting conversations and learning opportunities. It will be added to our other conversation cards that we keep near the table ready for some connection over dinner. And because they're so easily portable and don't have little pieces that can get lost, they'll be perfect for us to take on car trips and holidays too.